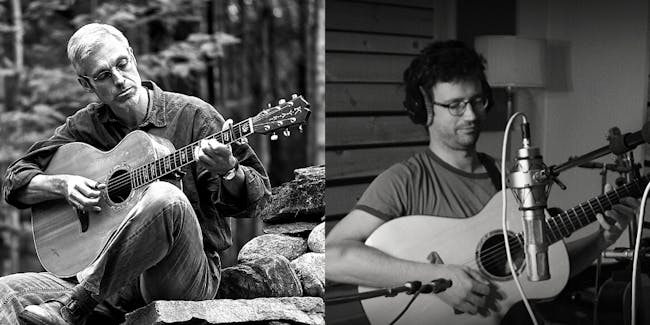 Keith Murphy & Yann Falquet w/ Mark Roberts & Andrea Cooper - Parlor Room
The Parlor Room
Keith Murphy & Yann Falquet w/ Mark Roberts & Andrea Cooper at The Parlor Room
DOORS OPEN AT 6:30PM.
TICKETS ON SALE NOW: $15/Adv, $18/Door
A native of Newfoundland, Keith's traditional song repertoire is based in Eastern Canada and Quebec as well as his current home, Vermont. His direct and intimate style of traditional singing in English and French infuses old ballads and songs with a powerful immediacy while his rhythmic and percussive finger style of guitar playing brings new shape and color to his songs. His 2005 album, Bound for Canaan showcased his refined sense of balance between innovation and tradition while Suffer No Loss (2014) is a beautifully spare recording in the style of early classic recordings of the traditional English and Celtic music revival. His most recent solo recording is Land of Fish and Seals (2018) – an ever tasteful mix of traditional and tradition-inspired songs in English and French with an impressive list of guest artists – Becky Tracy, Yann Falquet, Pascal Gemme, Rani Arbo and Mark Roberts.
Keith was a founding member of Nightingale, a trio which broke new ground in its sophisticated approach to traditional music. He is a mainstay of the Boston fiddle extravaganza, Childsplay and has also worked extensively with Tony Barrand on the song repertoire from the early twentieth century of the Atwood family from Dover, Vermont. He also appears frequently with his wife, fiddler Becky Tracy as well as part of the Hanneke Cassel Trio.
Keith is an accomplished composer and arranger in the realm of traditional music and has also composed for theater and film. He is a featured performer on well over a dozen recordings and a guest musician on numerous others. His versions of traditional songs have inspired recordings by other groups including Solas, Uncle Earl and Great Big Sea. Several of his compositions have been featured on the recent Ken Burns' documentary on the Roosevelts.
Keith is a faculty member of the Brattleboro Music Center (BMC) and the artistic director of the BMC's Northern Roots Traditional Music Festival in Brattleboro Vermont which he founded in 2008. He was a featured performer in the Boston Revels 2016 Christmas show and he is the music director for the WGBH Boston public radio's annual Celtic Sojourn St Partick's Day concerts held at Sander's Theater and elsewhere in New England.
http://blackislemusic.com/bios-press-kit/keith-murphy
Yann Falquet is a very active and creative acoustic guitar player on the Québécois music scene. He has explored many styles of music and completed a Bachelors degree in Jazz. Since then, he has developed a personal guitar style for Québec folk music, inspired by the playing of the accompanists of different cultures (Brittany, Scandinavia, Ireland, North America).
His involvement in the province's traditional music scene has brought Yann to perform on numerous recordings, and to tour regularly throughout Canada, the U.S., Europe and Australia with his main project Genticorum. He also toured for three years with the award winning Celtic and world group The McDades.
Yann has taught his guitar style at the Irish World Academy of Music and Dance in Limerick, at the Goderich Celtic College as well as for Alasdair Fraser's Fiddle Train and Sierra Fiddle Camp.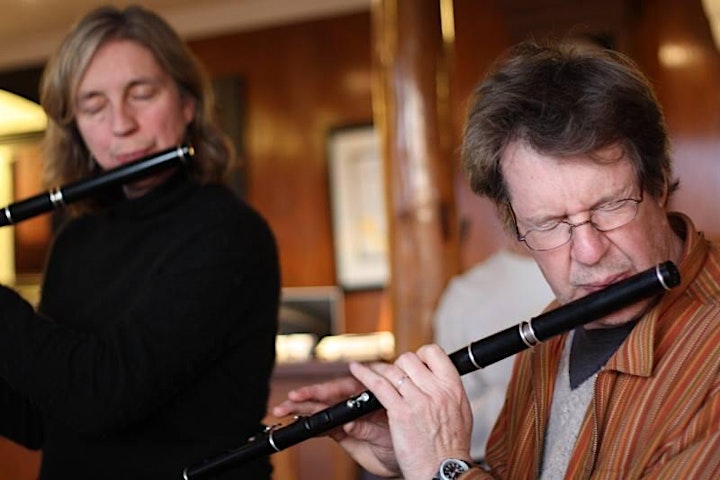 My Partner Andrea Cooper and I both play flute and 5-string banjo and love the chance to perform together.

Mark Roberts has toured and recorded with the seminal band Touchstone and played the banjo with the Red Clay Ramblers on Broadway in the show Fool Moon. His flute and pennywhistle can be heard in the Jon Sayles film The Secret of Roan Innish, and he got to realize his dream of playing the pennywhistle in large stadiums when he toured with Don Henley.

Andrea Cooper caught the Irish music bug while she was living in Toronto over a decade ago. Since then, her tin whistle, flute and banjo teaching and playing has taken her to places as far as Eek, Alaska and St. Joseph's Island, Ontario. Andrea was the resident tin whistle teacher at Randal Bays' Friday Harbor Irish Music Week in the Pacific Northwest for seven years and on staff at Algoma Trad, a traditional music family camp, Pinewoods and at Maine Fiddle Camp.

Venue Information:
The Parlor Room
32 Masonic St
Northampton, MA, 01060