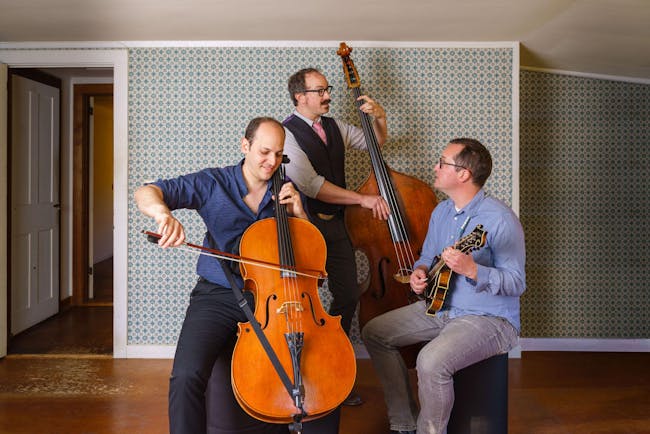 Mike Block Trio Feat. Zachariah Hickman and Joe K. Walsh
The Parlor Room
Mike Block Trio Feat. Zachariah Hickman and Joe K. Walsh at The Parlor Room
DOORS OPEN AT 6:30PM.
Tickets on sale now: $15/Adv, $18/Door
Mike Block Trio Feat. Zachariah Hickman and Joe K. Walsh
Mike Block Trio, Featuring Joe K. Walsh (mandolin) and Zachariah Hickman (bass), is a supergroup of three unique and virtuosic musicians. By fertilizing American roots music with contemporary and international influences, they bring an exciting and personal perspective to acoustic music.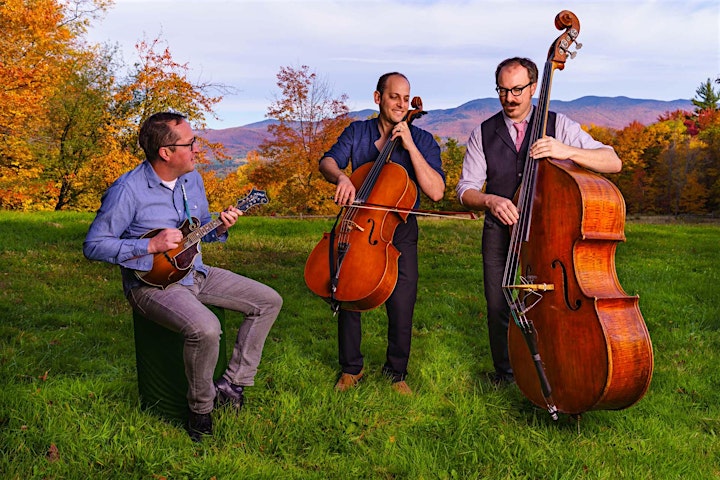 Mike Block is a pioneering cello player, singer, composer, and educator, hailed by Yo-Yo Ma as the "ideal musician of the 21st-Century." Passionate about cross-cultural collaboration through music, Mike is committed to inspiring individuals and connecting communities. At home in a wide range of musical styles, through a multi-genre approach to composition, performance and education, he seeks to inspire audiences and empower musicians to find joy in the full world of music.

Mike is member of Yo-Yo Ma's Silk Road Ensemble (SRE), having joined in 2005 while a student at The Juilliard School. Touring extensively throughout the world with SRE, he has been featured as cello and vocal soloist, contributed arrangements and compositions, and earned a Grammy Award in 2017 for their album, Sing Me Home. Mike also served as Music Director for SRE's acclaimed opening concert of New York City's Central Park SummerStage 2011 season "Night at the Caravanserai: Tales of Wonder".

As an innovator, Mike is among the first wave of cellists to adopt a strap in order to stand and move while playing. Employing his patented design, The Block Strap, Mike was the first standing cellist to perform at Carnegie Hall. The NY Times characterized the performance as, "Breathless ... Half dance, half dare."

Joe K. Walsh is a Bluegrass mandolin player and singer known internationally as an exceptionally tasteful player from his work with the legendary Gibson Brothers band, which the International Bluegrass Music Association (IBMA) has named winner of awards for Entertainer of the Year, Album of the Year, Vocal Group of the Year, and Song of the Year. Joe has also released two recordings under his own name, featuring original compositions and vocals, as well as friend and legendary fiddler Darol Anger, with whom Joe regularly tours. After being the first mandolinist to graduate from the Berklee College of Music on that instrument, Joe returned to Berklee in 2011 as both a mandolin instructor and as Managing Director of the American Roots Music Program.

Zachariah Hickman is a double bassist, singer, multi-instrumentalist and producer based out of Boston, MA. Originally from Lynchburg, VA, he received his formal training in jazz performance and composition from the Oberlin Conservatory of Music. For most of his adult life he has toured with singer-songwriter Josh Ritter, traveling all over the world and recording 7 full-length albums. Currently, he is performing as bassist and musical director for Ray Lamontagne. He has performed at many notable venues and festivals, including Carnegie Hall, Radio City Music Hall, Red Rocks, Bonaroo, Dublin Castle, The Fillmore, and the Royal Albert Hall. With Josh Ritter, he has also performed with the Boston Pops in Symphony Hall, the New York Pops in Central Park, and many other orchestras in Europe and the United States. Television appearances include five David Letterman appearances, Conan O'brien, Ellen Degeneres, and Late Night with Jools Holland for the BBC. As a producer, Zachariah as made records with a number of talented singers, including Rose Cousins (for which he won a Canadian JUNO award), Mark Erelli, Laura Cortese, Miss Tess, and his own bluegrass band Barnstar! He has also produced and ringmastered his own circus, released his own brand of mustache wax, and runs a vaudeville style variety show, Zack Hickman's House of Ill Repute.

Venue Information:
The Parlor Room
32 Masonic St
Northampton, MA, 01060