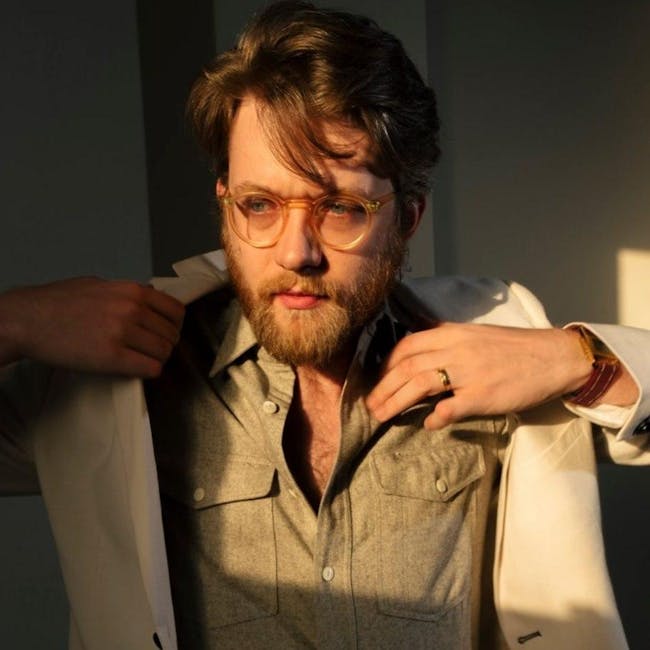 Taylor Ashton Album Release Show w. June Millington at The Parlor Room
DOORS OPEN AT 7:00PM.
Tickets on sale now: $12/Adv, $15/Door
On February 28, 2020, Canadian singer-songwriter, Taylor Ashton will release his debut solo album The Romantic on Signature Sounds. Heralded for his "rich, compelling voice" (Exclaim! Magazine), Ashton released four albums of heady progressive folk with the Vancouver-based Fish & Bird before moving to New York City in 2015. For a solo debut, The Romantic is wonderfully collaborative and finds Ashton working with different players from song to song. Ashton writes, "The album is like a supernaturally good party - the musical conversation flows naturally, different people come and go who bring different energies but it keeps a consistent tone. Thematically, The Romantic is a document of Ashton's identity as an expatriate Canadian living in the U.S., "processing change and loss and seeing the beautiful painful passage of time, from twelve different angles." With his first solo debut, Ashton brings his wide-ranging and richly textured folk-pop to a larger audience, appealing to an equally wide-range of fans from traditional old -time music to Harry Nilsson, Joni Mitchell, and Bill Withers.
https://www.facebook.com/taylorashtonmusic/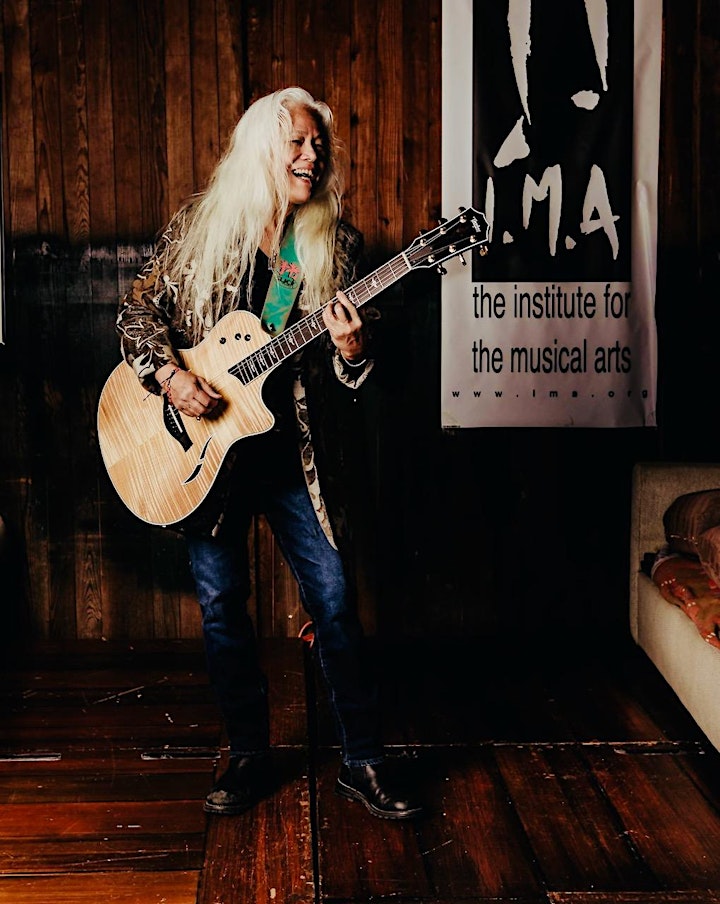 June Millington "one of the hottest female guitarists in the industry"(Guitar Player Magazine) has been making music since she was a child playing ukulele in her native Philippines. Having moved from Manila to California in the early sixties, she and her sister, bassist Jean, turned in their folk guitars for electric and formed a succession of all-girl bands. By '69 they were in Hollywood with their band Fanny, one of the first all women's rock band to be signed to a major label (Reprise). Through five successful albums and extensive touring of Europe and North America, Fanny served notice that women could do more than simply sing, they could write and play passionate rock 'n roll. As David Bowie said of the group in an interview with Rolling Stone:

" They were one of the finest fucking rock bands of their time ... They were extraordinary: They wrote everything, they played like motherfuckers ... They are as important as anyone else who's ever been, ever ..." (RS, January 2000)

Fanny played with major artists like Chicago, BB King, Dr John, the Kinks, the Staples Singers, Ike and Tina Turner, & Chuck Berry - and recorded an album at Apple Studios with Geoff Emerick, the Beatles engineer. June left the band in 1973 and continued to record and perform both with her sister Jean (bassist) and on a number of solo albums. She played in the genre of women's music for many years, and produced artists Cris Williamson, Holly Near, Mary Watkins, Melanie DeMore, and Bitch and Animal, among others. She is the co-founder and Artistic Director of the Institute for the Musical Arts [IMA], a non-profit organization for women and girls which hosts Rock 'n Roll Girls Camps in the summer. The Institute for the Musical Arts has grown into an internationally known teaching, performing and recording facility supporting women in music and music-related business.

Founded by June, along with partner Ann Hackler, activist/writer Angela Davis, and engineer/producer Roma Baran, IMA expanded into a 25-acre campus in Goshen, MA which runs 5 music Camps each summer, and hosts shows and workshops with established artists the rest of the year. June lives and works at the IMA, which has two recording studios and a performance center in the barn www.ima.org.

Millington has received numerous awards for her achievements including the Audio Engineering Society's Lifetime Achievement award, the Bay Area Career Women's LAVA award for being a "leg- end of women's music," the Outmusic Heritage Award and in 2007 she, along with the other members of FANNY, received the Rockrgrl Women of Valor Award at Berklee College of Music. In 2013 she received New England Public Radio's(NEPR) Arts and Humanities Outstanding Individual of the Year Award, the Veteran Feminists of America Award and, along with her partner Ann Hackler, the Out- standing Activist Award from the Living Kindness Foundation. In 2015 she was given an award for her contributions by the National Women's Music Festival.

June released her autobiography "Land of a Thousand Bridges: Island Girl in a Rock 'n Roll World" in June of 2015 and has received a great deal of press, including articles in Pitchfork, MS Magazine, and Newsweek as well as on NPR. Millington continues to perform, write and record and teaches at IMA as well as at colleges and universities around North America.

Discography

Fanny, Charity Ball, Fanny Hill, Mother's Pride ~ Fanny

Ladies on the Stage ~ with Jean Millington

Heartsong ~ solo

Running ~ solo

One World, One Heart ~ with Jean Millington

Ticket to Wonderful ~ with Jean Millington

Melting Pot ~ with Jean Millington and the Slammin' Babes

Play Like a Girl ~ with Jean Millington

Fanny Walked the Earth ~ Fanny Walked the Earth (with Jean Millington and Brie Darling)

Venue Information:
The Parlor Room
32 Masonic St
Northampton, MA, 01060